By Valeria Iachini ©
Difficulty - Medium.
Ingredients for 4 people:
- 4 eggplants (large)
- 500 grams of pureed tomatoes
- 1 package of pine nuts from 50 grams
- A jar of capers in water to 100 gr
- 30 grams of raisins
- A large onion
- Celery
- A pack of 50 grams of green olives without bones
- 6 large leaves basil
- Salt q.b.
- Extra virgin olive oil
- White wine vinegar 2 tablespoons
- Teaspoon of refined white sugar
Total preparation time 2hr
- Wash and cut eggplant into 1cm cubes ;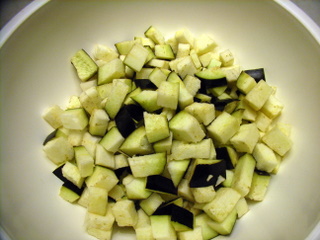 - Put the raisins to soak in a cup of hot water for 15 minutes.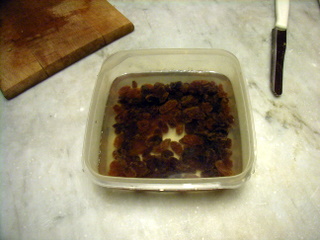 - Drain the water and allow to dry capers
- Toast the pine nuts on a pan 10cm
- Take a pan 28 cm in diameter, put a base oil;
- Heat the oil but do not take up smoking.
- Fry the eggplants, do not put all the eggplants at the same time, but cook them a little at a time, adding oil as needed '.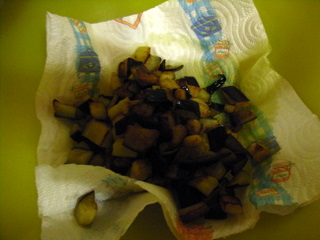 - Clean and then sliced to 1 / 2 cm celery stalk.
- Fry the Celery in the same pan you have used for the eggplants, using the remaining oil.
- Take the onion and slice it into thin slices in the horizontal plane.
- Put 2 tablespoons of oil in the pan (the same) and then fry the onion for 5 minutes over low heat.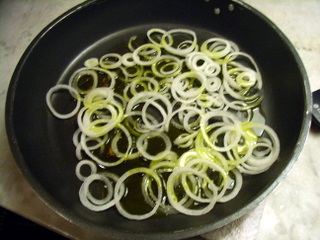 - Pour the tomato sauce in the pan with the onion and cook over medium heat for 10 minutes.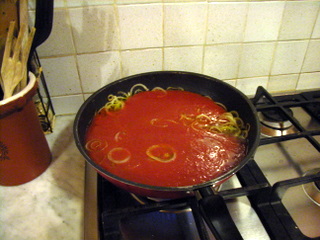 - Remove the raisins from the water and dry well.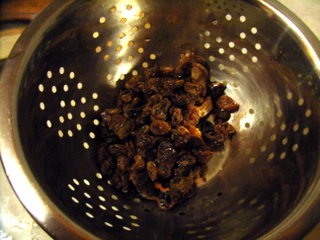 - Add the raisins, the olives and pine nuts with tomato sauce.
- cook the tomatoes for 10 minutes, after adding a tablespoon of the sugar and stir well.
- Add eggplant with tomato and celery, stir well and let simmer for 6 minutes, adding the vinegar (two tablespoons).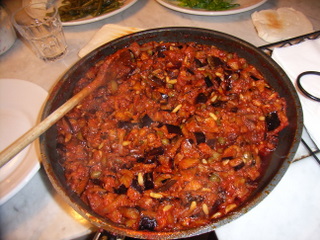 After putting everything into an earthenware container, add the basil leaves (whole), and let stand for at least 2 hours.
This dish must be served at room temperature and more it rests the better.
The caponata can be combined with:
- Hard-boiled eggs
- annealed
- Seasoned Cheese
- Baked Bread
Wine: Red like Primitivo di Puglia
Caponata Siciliana
Difficolta - Media.
Ingredienti per 4 persone:
- 4 melanzane (grandi)
- 500 grammi di passata pomodori
- 1 confezione di pinoli da 50 grm
- un vasetto di capperi sotto acqua da 100 gr
- 30 grammi di uvetta sultanina
- una cipolla grande
- una costa di sedano
- una confezione di olive verdi da 50 grammi senza osso
- basilico 6 foglie grandi

- sale q.b.
- olio extravergine di oliva
- aceto di vino bianco 2 cucchiai da minestra
- cucchiaino da the di zucchero bianco raffinato
Preparazione tempo totale 2hr
- Lavare e tagliare le melanzane a cubbetti di 1cm (foto);
- mettere l'uvetta a bagno in una tazza di acqua calda per 15 minuti.
- scolare i capperi da ll'acqua ed lasciarli asciugare
- tostare i pinoli su di una padella da 10cm
- Prendere una padalle da 28 cm di diametro, mettere una base di olio;
- scaldare l'olio ma non portarlo a fumare.
- friggere le melanzane, non mettere tutte le melanzane allo stesso tempo, ma cuocerle un po per volta, aggiungendo l'olio secondo necessita'.
- pulire e fare a fettine da 1/2 cm la costa di sedano.
- friggere il sedano nella stessa padella delle melanzane usando il rimasto dell'olio.
- prendere la cipolla ed affettarla sul piano orizzontale in fette sottili.
- mettere 2 cucchiai di olio nella padella (sempre la stessa) e fare soffriggere la cipolla per 5 minuti a fuoco lento.
- versare la passata di pomodoro nella padella con la cipolla, lasciare cuocere a fuoco moderato per 10 minuti.
- togliere l'uvetta dall'acqua ed asciugarla bene.
- aggiungere l'uvetta, l'olive ed i pinoli al pomodoro.
- cuocere il pomodoro per altri 10 minuti, al termine aggiungere un cucchiaio da the di zucchero e girare bene.
- aggiungere melanzane e sedano al pomodoro, girare bene e lasciare in cottura a fuoco lento per altri 6 minuti, aggiungendo l'aceto (due cucchiai da minestra).
Al termine mettere tutto in un contenitore di coccio, aggiungere le foglie di basilico (intere), e lasciare riposare per almeno 2 ore.
Il piatto deve essere servito a temperatura ambiente e piu riposa meglio e'.
La caponata puo essere abbinata a:
- uova sode
- ricotta salata
- formaggio stagionato
- Pane
{joscommentenable}